Follow your dreams, live Siemens
Siemens helps manufacturing companies to become digital enterprises
Who Can apply
Do you think you're the right candidate? That's who we are looking for:
You are majoring or are a fresh graduate in Automation, Electrical, Mechanical, IT, Physical, Chemical or Management Engineering
You are fluent in English and Italian (at least B2), German would be a plus
You have full marks Bachelor's or Master's Degree, or expected full mark in Master's Degree
You have at least 6 months life, study or work experience abroad
Energy, Proactivity, Open-Mindedness, Innovative, helicopter view, digital geek are some of your Key Qualities
You are open to national and international mobility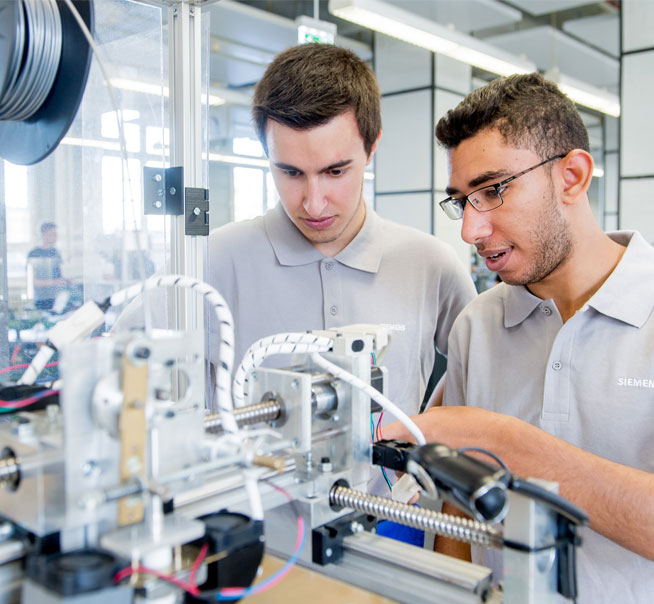 WHAT WE OFFER - OVERVIEW
You will be hired with a permanent contract in Milan as from June 2019. Your career in Siemens will start with an 18 months rotation program (3 assignments of 6 months each, covering 3 different digital industry roles) and a 1 month assignment abroad that will help you develop technical and leadership skills. The path includes mentoring and constant feedback moments.
You will be selected either for a:
Digital Sales Consulting Journey
Digital Portfolio Consulting Journey
Sign up for the Digital Industry Talent Program
After 18 months you will be ready to take in charge
one of these possible landing roles:
Digital Business Developer
You will support, consult and mentor our clients on Digital Products and Services from Siemens Digital Enterprise portfolio for the Italian market.
Digital Product Manager
You will take care of the marketing strategy of the Digital Products portfolio, leading and driving promotional activities according to HQ strategies.
Digital Technical Process Manager
You will drive consulting support regarding our products and solution portfolio with a deep dive knowledge on the added value of digitalization solutions.
Digital Technical Sales Consultant
You will present and propose Siemens products and solutions portfolio with a detailed knowledge on the digital emerging technologies that could enable new business models and better productivities for both OEM and End users.
Join our Digital Enterprise Talent Program!
You will be part of our Digital Industry Business and you will support the management in new digital objectives for our customers on their way to the future of industry!
THE SELECTION PROCESS
The selection process will be developed in several steps to be performed via your smartphone or tablet.
A full-fledged digital selection process.
Skillgame 1
A first multidisciplinary online technical test in the field of digital & information technology, consisting of questions of varying complexity. All the applicants will be asked the same questions, which are assigned numerical scores. You will have a limited time to answer each question!
Telephone interview
You will receive a call from the HR area in order to ascertain your motivation and match your requirements with the position you are looking for
Skillgame 2
The second online test is logical. In this case as well, you will have a limited time to answer each question, which will correspond to a numerical score. All candidates will be asked the same questions.
Video Interview
Tell us who you are, your ambitions, your personality and let us know how much you know about digital & information technology! We will invite you to answer several recorded questions that will take about 10 minutes, giving you the opportunity to freely express yourself.
WebInBasket
it is an individual role-playing that simulates a particular situation typical of a manager that who must: make decisions about a practical case, which includes managing meetings, handling e-mails, implementing networking activities, working on documents and using conference calls.
Assessment Day
Applicants who will pass the preliminary phase will be invited to individual assessment days in Siemens, which will take place in Milan in May 2019. It is a structured method to observe the behavior of the resources during a simulation in order to define the profile of each participant in terms of strengths and areas of improvement.
Do you want to get involved?
Subscribe to the Digital Industry Talent Program